Development
"And the cost of making users happy? It is small if addressed early in the Web development lifecycle, she said. 'If it costs $1 to make a change on paper, then it costs $10 in code and $100 when the site is up."
-Theresa Cunnington, ComputerWorld 2006
"A Bad Website is like a Grumpy Salesperson"
Highdive is an experienced website and mobile development company dedicated to top quality visual- and user-focused design.
Whether you are looking to create a new website or revamp an existing one, before we even begin to think about what your website will look like, at Highdive, we dig deeper to uncover what needs to happen to reach your unique business goals and satisfy your users' tasks.
If you can dream it, we can build it. Using only the latest and greatest technologies, our development team can work within your requirements – or select a platform that would be best suited to your needs.
If you don't talk to your customers, how will you know how to talk to your customers?
Working with Highdive means you get a customized website based on your goals and your users' top tasks, dedicated team available to answer any questions, and a complete, fully-tested application with all your content optimized, ready to go live.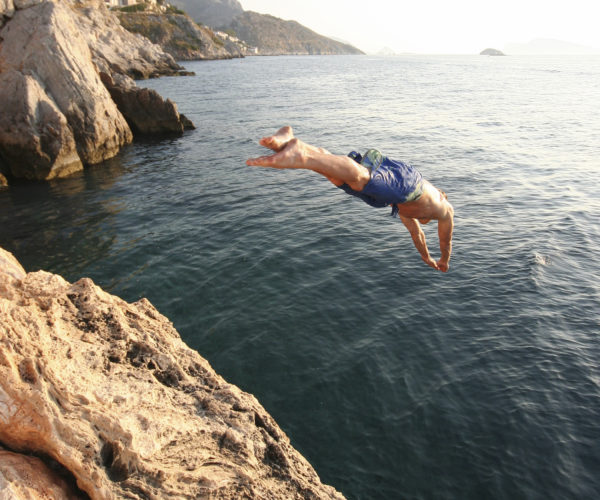 "More than 83% of Internet users are likely to leave a website if they feel they can't find what they're looking for1, and 58% of visitors who experience usability problems don't come back2."
–Arthur Anderson(1), Forrester Research(2)
Highdive offers services to enhance the content organization, design, and tools a visitor would use to accomplish their online goals:
 Website Development
Anyone can set up a website, but creating a great site isn't just about putting pretty pictures a  page, changing some settings and calling it a day. We create customized designs that integrate with your business strategy, create an effective online presence and add another dimension to your customer service. Our focus is on smart designs and user-friendly navigation.
 Mobile Development
Mobile Design and Development is a growing component of highdive. We create customized designs that integrate with your business strategy, create an effective online presence and add another dimension to your customer service. Our focus is on smart designs and user-friendly navigation.
Responsive Websites
websites designed for easy reading and navigation with a minimum of resizing, panning, and scrolling—across a wide range of devices (from desktop to tablet to mobile phones)
Native Mobile Apps (iOS and Google)
app for a certain mobile device (smartphone, tablet, etc.), installed directly onto the device. typically acquired through an online store or marketplace
Hybrid Mobile Apps (PhoneGap)
reuse existing web development skills and applications to quickly create experiences for multiple platforms with a single codebase (can reach your audience no matter their device)
Content Management System
custom-built, open source (drupal, joomla, wordpress, plone, dotnetnuke), or hosted / managed platforms upon which to build websites
e-Commerce Platform
custom-built, open source (magento, opencart, zencart, oscommerce, etc), or hosted / managed platforms upon which to build commerce sites
Infographics
graphic visual representations of information, data or knowledge intended to present information quickly and clearly
Back Office Integration
pulling data entered on a web or mobile application to a back office system such as accounting, hr, or finance systems
Process Automation
automating manual processes, such as scheduling, data entry, calculating
Custom Applications
tools, modules, and plugins used to enhance a website, or automate a process
″

"Findability precedes usability. In the alphabet and on the Web. You can't use what you cant find."
Inbound Marketing
Inbound marketing is based on the philosophy "Sharing is Caring." By creating and sharing content specifically designed to appeal to your dream customers, inbound attracts qualified prospects to your business and keeps them coming back for more.
Content Creation – We create targeted content that answers your customer's basic questions and needs, and share that content far and wide.
Lifecycle Marketing – We help you to recognize that people go through stages as they interact with your company, and that each stage requires different marketing actions – putting content in context.
Personalization – As we learn more about your leads over time, we help you to better personalize your messages to their specific needs.
Multi-channel – Inbound marketing is multi-channel by nature because it approaches people where they are, in the channel where they want to interact with you.
Integration – Our publishing and analytics tools all work together like a well-oiled machine, allowing us to focus on publishing the right content in the right place at the right time.
Benefits of Inbound Marketing
Increase revenues by filling your sales funnel with qualified leads and by optimizing your sales funnel to convert more leads into customers.
Save money by utilizing proven low cost-per-lead tactics and by making your sales and marketing process more efficient.
Accelerate time-to-ROI by hiring a team of experts dedicated to quickly achieving your business goals for digital marketing.
Optimized calls-to-action, landing pages and lead nurturing communications, which results in higher conversion rates and the ability to move qualified sales prospects down the sales funnel more efficiently.
Reduce churn and increase customer lifetime value.
Search Engine Optimization (SEO)
There are hundreds of thousands of businesses online. Let us make your site stand out and drive traffic your way. Our site promotion package will provide organic key word research and search engine optimization to get your site listed on premiere search engines. We can also provide competitive analysis and set up Pay Per Click campaigns — it is all about your goals! Our team stays on top of the ever-changing search engine algorithms to elevate your site in the rankings, and integrate the promotion process into the site construction and ongoing-maintenance, giving your site the visibility it deserves.
Email Campaigns
Need more reach? Highdive can connect you with your online customers for a one-time promotion, monthly newsletter, or targeted campaigns, all for a fraction of what it would cost through the traditional method of print and mail!
When do we Use Each?
Always.
Smart, user-focused content gets 'em there.
A solid, error-free, easily navigable system keeps 'em there.
Pricing
Custom Websites range from $6,000 – 25,000
Pricing varies based on paid versus open source CMS platforms, number of pages, technical aspects, complexity of design, and additional graphics design assets needed.
Adding eCommerce starts at $7,000 – 15,000
Pricing varies based on platform, number of images, volume of SKUs and technical complexity.
Mobile Applications start at $7,000
Depending on Native vs. Hybrid development approach, location of data, and technical complexity
Inbound Marketing starts at $3,500 (+ monthly fees starting at $2,800)
Natural search tracking, Social signal tracking, International search tracking, Universal search tracking, Content insights, Website page analysis and recommendations, CMS Optimization and automation
Content Marketing starts at $1,000 per month
Depending on amount of content to write
Want a free 1-hour consultation to discuss how to see your site from your customers' perspective? Let's chat.
User Experience Strategy Projects
We help you to get out of your own way and create solutions that
work for your CUSTOMER.